COLD Theatre 7 (CT7) is the brainchild of actor and thespian Kevin Cruze. Kevin has always had a vision of forming an amateur theatre troupe with the main objective of being able to create a pool of artistes with a variety of talents and to develop their skills, giving them the necessary opportunities, exposure and confidence to showcase their talents when it really matters and preparing them to perform on the grandest stage.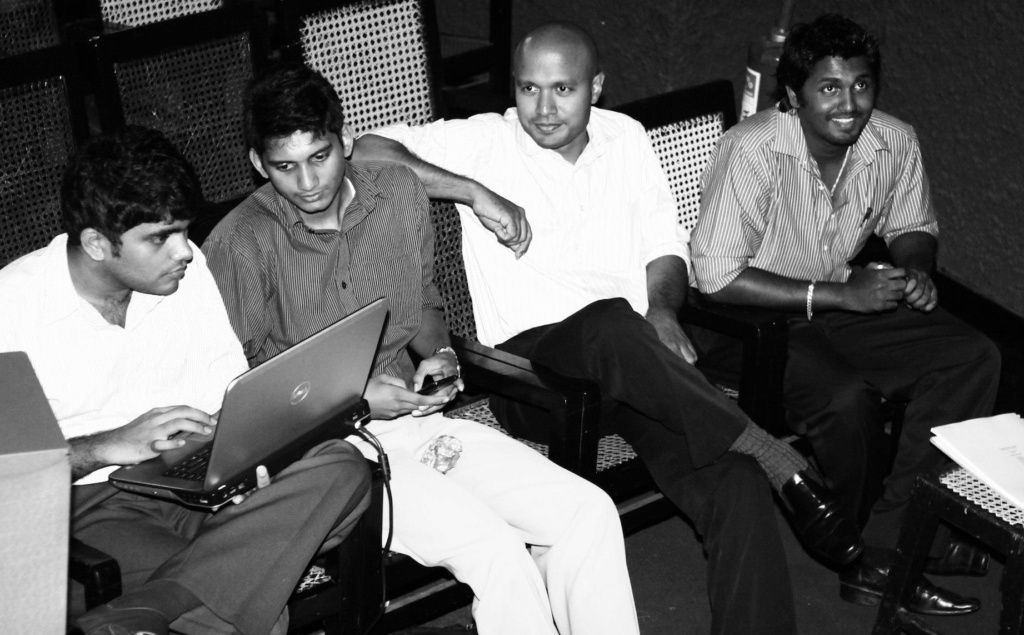 Pictured here (L-R) Revon Fernandopulle, Dino Corera, Anuk De Silva & Kevin Cruze at the Lionel Wendt Theatre (possibly when the idea for CT7 was hatched)
COLD Theatre 7 was founded in March 2013 in a coffee shop by seven enthusiastic theatre lovers, personally hand-picked by Kevin. The ambitious theatre troupe's first major assignment was the staging of one of Agatha Christie's classics 'And Then There Were None' in November 2013 which was a theatrical success. Subsequent to this production, even though it barely managed to break even on the finances, the troupe managed to carry out a charity project by donating all the funds raised through the sale of souvenirs to the Holy Family Children's Home in Kilinochchi, Sri Lanka.
Since then, CT7 has gone on to entertain Colombo audiences with the staging of several plays and musicals that have included stellar casts.
As part of its long term plan to develop drama & theatre at St. Joseph's College, CT7, under the guidance and leadership of Kevin, was heavily involved in organising the first ever Inter-House Drama Competition (in collaboration with CT7) at St. Joseph's in July 2014, together with the school's English Literary Union. This was followed by several other successful drama competitions organised in subsequent years, where the audiences witnessed and appreciated the standard of the events.
Having carried out these drama competitions, the troupe hopes to extend their coverage to other schools as well. In addition to the above, CT7 has conducted various workshops for theatre lovers at school-level as well.
Pictured here 7 years later are (L-R) Sachintha Dias, Revon Fernandopulle, Dino Corera, Jordan Bryan, Anuk De Silva & Kevin Cruze (Missing Chrishan Silva) at Coffee Bean, the same place the first meeting was held.
With the intention of developing all aspects of drama & theatre among schools in Sri Lanka, CT7 commissioned the Inter-School House Cup in June 2017. This project aims to establish an inter-school drama competition for the winners of their respective school inter-house drama competitions in a calendar year. The uniqueness of this drama competition is that by having a variety of awards categories (in addition to celebrating the acting-related achievements), CT7 is inviting the future student stage managers, music composers, set designers, make-up artists, choreographers and many others to be a part of this competition whilst encouraging them to pursue every aspect of theatre, thus providing an invaluable experience that will give students the chance to compete against their peers and be judged by some of the greatest thespians in the country.